Home > 29 Who Shine > 2014 State University Award Winners
29 Who Shine Award Winners:
State University Students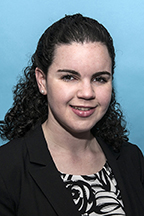 Christine Marie Michelson
Bridgewater State University
Christine Michelson of Braintree has put her creative energies and entrepreneurial spirit to work on behalf of others. She launched and led the BSU Buddies, a student club dedicated to improving the lives of area residents with developmental disabilities. Christine was also responsible for BSU's adoption and implementation of "Light it Up Blue for Autism," a national effort to light public buildings and landmarks to raise awareness of autism. Christine also developed a project entitled "Movement Arts Goes Green" to expose children with developmental disabilities to theater arts activities including acting, set design, signing and singing. She will seek a teaching position in the field of special education.
Faculty/Staff Mentor: Christine chose to recognize J. Edward Carter, Ed.D., Professor, Special Education and Communication Disorders. "Dedication and commitment do not describe the quality and generous support that Dr. Carter has provided me in my program at BSU. His expertise in the field of special education has helped me succeed in my educational endeavors and I truly believe he has made a long term impact on my approach to creative teaching."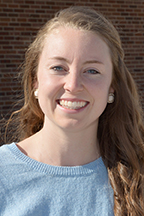 Sarah Minton
Fitchburg State University
Twenty-two-year-old Sarah Minton of Quincy has been an engaged and passionate student leader since start of her career at Fitchburg State. As president of the class of 2014 she launched the Fitchburg Anti-Violence Education Club, building on FSU's own efforts to combat dating violence and sexual assault. She also organized an ongoing campaign to make Fitchburg State a smoke-free campus. A future RN, Sarah mobilized her fellow student nurses to create a day-long health fair for underserved populations in the city of Gardner. Her educational training has included clinical rotations as a diabetic educator and school nurse in community hospitals and schools. Sarah hopes to work in the fields of oncology or neurology.
Faculty/Staff Mentor: Sarah chose to recognize Allison Pauline Shields, MS, RN, Professor, Nursing. "When I first met Professor Shields, I knew that she was going to be someone that I looked up to; as a nurse, leader and role model. Her positivity, enthusiasm and passion for nursing encouraged me to make a difference, advocate for my ideas and become a leader in the field of nursing."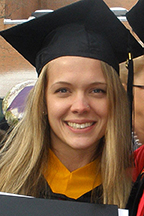 Rachael Cooper
Framingham State University
Rachael Cooper is using lessons learned in Guatemala and Haiti to prepare for a future in medicine here in Massachusetts. With funding provided by Framingham State, Rachael has spent the past two summers conducting research in Guatemala. Rachael examined the prevalence of intestinal parasites in rural communities and studied the effectiveness of medication used to eliminate infections. She treated more than 500 people living in extreme poverty. She discovered that even the poorest villages offered an integrative approach to medical treatment, something she believes is lacking in the U.S. health care system. Rachael plans on attending medical school in fall 2015, where she will study primary care.
Faculty/Staff Mentor: Rachael chose to recognize Aline Davis, Ph.D., Associate Professor, Biology Department. "Dr. Davis is passionate about science and dedicated to the success of her students. When I expressed a desire to execute my undergraduate research on parasitic infections in Guatemalan schoolchildren but lacked the funds, Dr. Davis provided me with knowledge and tools I needed to apply for a research grant through the University."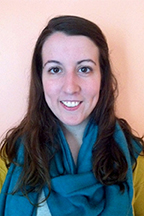 Meghan Elizabeth Robbins
Massachusetts College of Art and Design
Meghan Robbins' work as a student leader, artist, activist, and educator embodies the ideals of engaged citizenship. Through a course entitled "Making Art Public," Meghan created a community project to help save the local Parker Hill Branch of the Boston Public Library from a rumored closing. Along with other activists and community stakeholders, Meghan staged "a participatory art intervention," interviewing local residents about their desire to keep the library open and then transcribing their comments onto bookmarks, which were placed in countless volumes at the Parker Hill branch, where they remain. Also active in a host of other campus art initiatives, Meghan plans to work as an art educator upon graduation this spring.
Faculty/Staff Mentor: Meghan chose to recognize Adriana Katzew, Professor, Art Education. "Adriana Katzew has been incredibly influential throughout my time in MassArt's Art Education Department. I have learned from Adriana both in the classroom and in community settings. As an educator, artist, and mentor; Adriana has inspired and encouraged me to continue working with my passion for community arts education."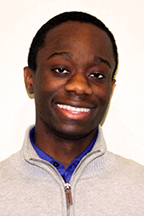 Jerry Kiahon
Massachusetts College of Liberal Arts
Jerry arrived at MCLA from Worcester three years ago, intending to major in biology and become a physician's assistant. His MCLA experience has caused him to aim even higher: he now plans to become a doctor. Jerry has served as MCLA's ambassador to the "Go Public" campaign to promote opportunities at Massachusetts public colleges and universities. At an event at Springfield Central High last fall, Jerry challenged hundreds of high school seniors to prepare for college and STEM careers by taking challenging courses in math and science. During his summer break Jerry volunteers at a local nursing home. "It feels nice to just keep them company," he says. "I know the residents get lonely and I love to brighten their day."
Faculty/Staff Mentor: Jerry chose to recognize Deborah Foss, Professor of Psychology. "Deb has supported me throughout my MCLA career both acedemically and emotionally. She helped me to navigate through my educational career to achieve my goal of graduating from MCLA. Deb helped me when I was struggling with courses and pushed me to never give up. She also worked with me to obtain a significant scholarship that helped in a time of need so I could stay focused on my studies."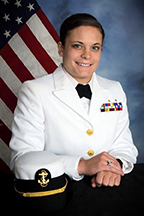 Crystal Ann Sherman
Massachusetts Maritime Academy
Crystal graduates this spring with a degree in Facilities Engineering. She has been named to the Academic President's List, Academic Dean's List, and All- Academic team for the Massachusetts State College Athletic Conference (MASCAC). Most recently, she made history as the 1st female cadet to represent MMA in its student exchange program in China. She is a 3-time winner of MMA's Cadet of the Month award for superior performance. As a senior, she served as Regimental Operations Officer Cadet with responsibilities for the administration and implementation of the Cadet Discipline System for over 1,400 cadets. Crystal is an avid volunteer with the Department of Children and Families (DCF), Bourne Food Pantry, and Special Olympics. She recently accepted a job as an Engineer Trainee in the oil drilling field.
Faculty/Staff Mentor: Crystal chose to recognize Kathrine McClellan, LT., Faculty, Engineering Department. "LT McClellan was my 1st lab instructor for my very first engineering course at MMA. She encouraged me to become an engineer and assisted me in obtaining the 2nd class Fireman's license in MA. She has been a great role model and a professional female engineer I look up to."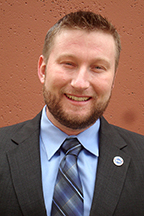 Patrick Ryan Cornell
Salem State University
Patrick is passionate about working on behalf of the Commonwealth's veterans. A veteran himself who served in combat units in Iraq and Afghanistan and now serves in the Army National Guard, he founded Salem State's chapter of Student Veterans of America. He serves on the Governor's Student Veteran Advisory Board, Congressman John Tierney's (DMA) Veteran Advisory Board, and the Massachusetts Student Veteran Implementation Guide Task Force, where he is involved in developing standards for student veteran programs. Patrick completed his degree in Business Administration in three years, finishing with a 3.8 GPA. He hopes to work in veterans' affairs or the defense industry.
Faculty/Staff Mentor: Patrick chose to recognize Sam Ohannesian, Director of Enrollment Services and Veterans Affairs. "Sam has been the single most influential professional I have had the honor of interacting with at Salem State University. His commitment to student veterans and his unwavering desire to expand and improve veterans services has consistently influenced me to continue serving my peers, my community, and my country."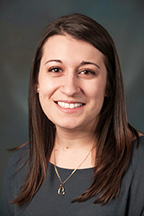 Brittany C. Moniz
Westfield State University
Brittany is a Westfield campus leader and honors student graduating with a dual major in Communication and Political Science. Despite being chosen for national internships at CNN and Save the Children in Washington, Brittany has remained active on campus, serving consecutive terms as her class president. She also served as the student representative on the Commencement, Honorary Degree and Enrollment Management committees and as a student ambassador representing the University at events. Brittany was a two-time recipient of the President's Award for Excellence in Leadership.
Faculty/Staff Mentor: Brittany chose to recognize Marsha Marotta, Ph.D., Vice President of Academic Affairs. "During a service learning course on homelessness in San Francisco, Dr. Marotta challenged me to think critically and to develop an analytical perspective of social issues. She inspires me to embrace change and explore new ways to engage with my community. Her encouragement has been a catalyst to my pursuit of unique academic opportunities and leadership roles."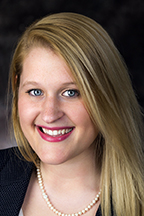 Julie Elizabeth Broderick
Worcester State University
Julie graduates from Worcester State with a degree in Business Administration and a desire to help the those in need. This honors student used her entrepreneurial talents to create On-Guard, a non-profit organization that aims to raise awareness of the mental health issues and suicide prevention among correction officers and to foster a community of support for the officers and their families. In 2013, Broderick hosted the first annual On-Guard 5K Road Race, which raised over $10,000 since its inception. She has used her exceptional communication and networking skills to garner the support of local, state and federal unions, the Worcester County District Attorney's Office, the Worcester County Sheriff's Academy and a host of other individuals and organizations to ensure On-Guard's success.
Faculty/Staff Mentor: Julie chose to recognize Joan Jay Mahoney, Ph.D., Professor, Business Administration. "As a freshman, I told Professor Mahoney that I wanted to "be in charge." As a senior, thanks to her guidance and my volunteer work, I know I want to run a non-profit organization providing excellence with dignity to those in need. I now know what I want to be in charge of. Thank you, Dr. Mahoney!"