Op-Ed: Are our students ready for college?
By Mitchell Chester, Commissioner of Elementary and Secondary Education, and Richard Freeland, Commissioner of Higher Education
March 27—Massachusetts's chief economic asset in the global economy is its unparalleled brain trust — the preparation and production of a highly educated citizenry and workforce. As a national leader in education, the Commonwealth has seen its elementary and secondary students rise to the occasion time and again with increased rates of proficiency on state and national exams.
But beneath the surface of this strong student performance, a more nuanced picture emerges. Nearly 31 percent of Massachusetts's public high school graduates who enroll at one of the state's public colleges or universities — including 65 percent of all community college students — place into one or more noncredit-bearing, remedial courses. Achievement gaps between students of color and white students are higher than the national average, as are the gaps between the college enrollment rates of students of color and white students. In a state where 72 percent of the jobs will require college degrees or training by 2020, the fact that so many students are deemed unprepared for college should set off alarms.
Educators need new assessment tools that guide them in instituting earlier and more effective interventions to support struggling students. ... >> Continues on BostonGlobe.com
---
Board of Higher Education Seeking Public Comment on Program Review Policy
Policy streamlines program review process for Massachusetts-based, private higher education institutions in good standing
March 20—The Board of Higher Education is seeking public comment on the 2014 BHE Program Review Policy, which seeks to streamline the program review process by allowing for expedited internal and external reviews of new programs proposed by Massachusetts-based, private higher education institutions that are accredited without sanction by NEASC and otherwise in good standing with state and federal authorities. A description of the purpose and intent behind the proposed new policy, along with a summary of the proposed changes, is included in the Board of Higher Education Motion, BHE 14-04.
All comments must be submitted by 5:00 p.m. on Friday, April 11, 2014. The BHE is expected to vote on adopting the policy at its regular monthly meeting scheduled for May 6, 2013.
>> More info, including instructions for submitting comments
---
Commissioner Freeland Outlines Budget Priorities for House and Senate Ways & Means Committees
Committees held joint FY2015 budget hearing focused on early, elementary and higher education
February 25—"I want to reiterate that the recent investments in public higher education are paying off. Today, Massachusetts is better aligned to address the needs of growth industries in the Commonwealth and the near-term training and employment needs of both students and job seekers. And we are also creating a pipeline of future workers and leaders who are civically engaged and well-prepared for careers in Massachusetts' knowledge economy," Commissioner Freeland said. "Massachusetts public higher education can—and should—be a top 10 system of colleges and universities in terms of both performance and support. We have work to do to achieve this goal."
---
MA Board of Higher Education Supports New Nursing Compact
Endorses Effort to Streamline Student Transfer to Four-Year Programs

Photo credit: Salem State University
February 21—The Massachusetts Board of Higher Education (BHE) is taking steps to make it easier for nurses to pursue advanced degrees, with the goal of improving patient outcomes across the Commonwealth. On January 28, the BHE endorsed a new Nursing Education Transfer Compact developed by the Massachusetts Action Coalition (MAAC), a partnership between the Organization of Nurse Leaders of Massachusetts and Rhode Island and the Massachusetts Department of Higher Education. The goals of the Compact are to provide a "seamless, cost effective, timely and transparent pathway" from community college nursing programs, where students earn Associate degrees in nursing (ADN), to state universities and UMass campuses, where they can earn Bachelor of Science degrees in Nursing (BSN). Eligible students are those who have completed an ADN at a Massachusetts community college, passed the NCLEX-RN exam, and completed the requirements of the MassTransfer program, which allows students to transfer general education credits.
>> More info
>> Download the press release (.PDF)
---
Department of Higher Education Hosts College Goal Sunday Kickoff, Urges Students and Families to Seek Help with Financial Aid Forms
Senator Elizabeth Warren Joins State Education Leaders to Highlight Need for FAFSA Completion; Nearly 30% of Students Do Not Complete, May Forfeit Aid

Senator Elizabeth Warren addresses the crowd at Charlestown High School on College Goal Sunday
January 21—In keeping with the Patrick Administration's commitment to help low-income and first-generation students enroll and succeed in college, Education Secretary Matthew Malone and Higher Education Commissioner Richard M. Freeland joined U.S. Senator Elizabeth Warren at Charlestown High School to urge Massachusetts students and families to seek help in filling out the Free Application for Federal Student Aid (FAFSA) at volunteer-staffed events set for January 26 and February 23, the Department of Higher Education announced.
"It is critical to call attention to the free FAFSA help available for all Massachusetts students and families so that education can remain affordable," said Education Secretary Matthew Malone. "It is heartbreaking to see accomplished and deserving students being denied financial aid because they couldn't complete the FAFSA on their own. Our goal for College Goal Sunday is to make sure that every eligible student in Massachusetts has the help he or she needs to complete this essential application on time."
>> More info
>> Download the FAFSA Day brochure (.PDF)
---
MA Board of Higher Education Votes to Improve Math Remediation, Create New Math "Pathways" of Study
Trustees Encourage Campuses to Align Math Instruction With Students' Career Goals
December 10—With 38% of public college and university students enrolled in non-credit remedial coursework during their first semester in college, the Massachusetts Board of Higher Education has voted to encourage campus efforts to improve remedial math education, create new academic pathways for math instruction, and increase the number of students who are prepared to finish college and enter the workforce, the Department of Higher Education announced today.
>> More info
>> Read the press release (.PDF)
>> More info on DHE's STEM initiatives
---
MA Among Four States Chosen for National Push to Increase College Completion in Science, Technology, Engineering & Math
Complete College America Cites Commonwealth's "Visionary Leadership" in Effort to Raise Graduation Rates in STEM Fields
Grant makers and recipients gather at the Department of Higher Education. From left: Carole Cowan, President, Middlesex Community College; Richard Freeland, Commissioner of Higher Education; Stan Jones, President, Complete College America; Jack Sbrega, President, Bristol Community College; William Messner, President, Holyoke Community College; Dale Allen, Vice President for Community Engagement, Quinsigamond Community College; and Dominique Raymond, Vice President, State Alliance Relations, Complete College America.
November 20—Massachusetts has won a grant from Complete College America (CCA) to aid the state's efforts to increase the number of college students who complete degree and certificate programs in science, technology, engineering and math (STEM) fields, the Department of Higher Education announced today. The technical assistance grants awarded to Massachusetts, three other states and the District of Columbia are supported by the Leona M. and Harry B. Helmsley Charitable Trust.
---
Governor's STEM Advisory Council releases STEM Plan 2.0
STEM Plan 2.0 Provides Increased Focus on STEM Education as the Engine for Creating Growth and Opportunity Across the Commonwealth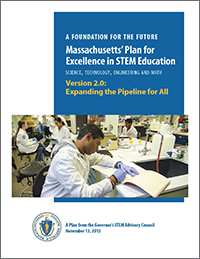 November 13—Governor Deval Patrick today announced a renewed strategic plan for tying economic development to educational enhancement in the fields of Science, Technology, Engineering and Math (STEM) at the tenth annual Massachusetts STEM Summit at Gillette Stadium in Foxborough. STEM Plan 2.0, entitled "A Foundation for the Future: Massachusetts' Plan for Excellence in STEM Education: Expanding the Pipeline for All" (.PDF: 3MB), with its refined goals and improved data metrics, sets direction for the years ahead and highlights concrete strategies for use locally to catalyze action around the goals of the Plan in order to prepare the Commonwealth's residents to be STEM literate. This report is the second in a planned series of periodic reports (every three years) to track progress against the goals and to set new standards.
>> Download STEM Plan 2.0 (.PDF: 3MB)
>> Read the press release

>> More info on DHE's STEM initiatives
---
Student Speakers Urge Worcester Teens to "Go Public!" at Community Colleges, State Universities and UMass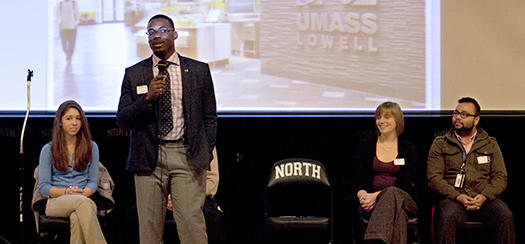 Students representing several of Massachusetts' public colleges and universities take the stage at the Worcester "Go Public!" event. Photo courtesy of Worcester State University.
November 12—Students from Massachusetts community colleges, state universities and UMass campuses came to Worcester's North High School to promote science, technology, engineering and math—the STEM fields—to 400 students from four of the city's high schools.
The event featured six student speakers from UMass Medical School, UMass Lowell, Quinsigamond Community College, Mount Wachusett Community College, Fitchburg State University and Worcester State University. Following the auditorium program, students met with campus admissions representatives to learn more about careers in fields such as medicine, robotics, chemistry and engineering. They also tried their hands at STEM-related activities, such as extracting the DNA from strawberries.
---
DHE Issues Request for Proposals for STEM Starter Academy
October 24—Today the DHE released a Request for Proposals to the 15 community colleges for the STEM Starter Academy, which commits $4,250,000 to Massachusetts Community Colleges to address the needs of students who are interested in pursuing STEM pathway programs of study, yet who lack the academic preparation needed to succeed. Proposals may be submitted for student support services and activities, student stipends, or structured STEM programs of study. Proposed projects will build on current campus initiatives, or initiatives from other Massachusetts Community Colleges that can be quickly replicated. Projects should be designed so as to be easily scalable to other campuses.
>> STEM Starter Academy Request for Proposals (.DOC)
>> STEM Starter Academy Frequently Asked Questions (.DOC)
>> More info
---
DHE Releases 2013 Vision Project Annual Report
Second Annual Report Highlights Signs of Campus Progress on Graduation Rate Goals, New Efforts to Reform Costly Remedial Education Programs
October 21—In keeping with the Patrick Administration's commitment to invest in public higher education, Massachusetts community colleges, state universities and UMass campuses are reporting initial signs of progress in their efforts to graduate more students and better prepare them for jobs in the Commonwealth's knowledge-based industries, according to a major new report released today by the Massachusetts Department of Higher Education.
Within Our Sights: Inside Campus Efforts to Achieve National Leadership in Higher Education is the second in a series of annual reports tracking progress through the Vision Project, a Board of Higher Education-approved strategic plan to achieve national leadership among state systems of public higher education. Across Massachusetts, public campuses are working to expand college access, raise graduation rates, improve the quality of student learning, align degree and certificate programs with the needs of local employers, prepare future citizens, close achievement gaps and pursue research that drives economic development.
>> Download the "Within Our Sights" report
>> Download the press release
>> More info
---
Massachusetts Public Colleges and Universities, Regional Campus Consortia Win $7.5 Million to Close Achievement Gaps, Raise Graduation Rates
September 23—Massachusetts education officials joined leaders of the state's public colleges and universities today to announce the 3rd annual Vision Project Performance Incentive Fund grants designed to spur innovations and improve educational outcomes in public higher education.
The grants totaling $7.5 million were announced at Roxbury Community College (RCC), recipient along with the University of Massachusetts Boston of a consortia grant to help student who transfer to UMass from RCC remain on track to complete their programs of study.
---
Community College Dorms in MA Now a Possibility
June 18—The Massachusetts Board of Higher Education (BHE) today approved a policy change (.PDF) to allow consideration of campus proposals to build residence halls at any of the state's 15 community colleges. The measure was approved on a unanimous vote at the Board's last scheduled meeting of the year. BHE policy in effect since 1980 precluded consideration of residence halls at community colleges. The vote to change the policy establishes Massachusetts as the 40th state to permit the construction of student housing on community college campuses.

"I want to stress that this is not a decision to initiate a program of student housing construction at community colleges," said Richard M. Freeland, Commissioner of Higher Education. "Rather, this is a vote to be prepared to consider proposals in cases where they may enhance the educational experience of our students."
---
Ten Community Colleges Receive Rapid Response Grants to Target "Skills Gap"
May 28—Ten Massachusetts community colleges have been awarded the state's first-ever Rapid Response grants to respond to education and workforce training needs within 90 days of a company's request, the Patrick-Murray Administration announced today. The campus recipients of the grants—Berkshire, Bunker Hill, Cape Cod, Greenfield, MassBay, Middlesex, Mount Wachusett, North Shore, Northern Essex and Roxbury Community Colleges—were announced today during a tour of Web Industries in Holliston, where MassBay Community College has just launched English as a Second Language (ESL) and computer literacy training for the company's multi-lingual employees.
---