MA Among Four States Chosen for National Push to Increase College Completion in Science, Technology, Engineering & Math
Complete College America Cites Commonwealth's "Visionary Leadership" in Effort to Raise Graduation Rates in STEM Fields
Grant makers and recipients gather at the Department of Higher Education. From left: Carole Cowan, President, Middlesex Community College; Richard Freeland, Commissioner of Higher Education; Stan Jones, President, Complete College America; Jack Sbrega, President, Bristol Community College; William Messner, President, Holyoke Community College; Dale Allen, Vice President for Community Engagement, Quinsigamond Community College; and Dominique Raymond, Vice President, State Alliance Relations, Complete College America.
November 20—Massachusetts has won a grant from Complete College America (CCA) to aid the state's efforts to increase the number of college students who complete degree and certificate programs in science, technology, engineering and math (STEM) fields, the Department of Higher Education announced today. The technical assistance grants awarded to Massachusetts, three other states and the District of Columbia are supported by the Leona M. and Harry B. Helmsley Charitable Trust.
---
Governor's STEM Advisory Council releases STEM Plan 2.0
STEM Plan 2.0 Provides Increased Focus on STEM Education as the Engine for Creating Growth and Opportunity Across the Commonwealth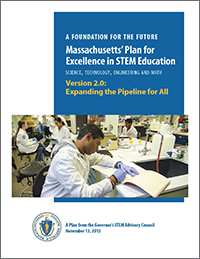 November 13—Governor Deval Patrick today announced a renewed strategic plan for tying economic development to educational enhancement in the fields of Science, Technology, Engineering and Math (STEM) at the tenth annual Massachusetts STEM Summit at Gillette Stadium in Foxborough. STEM Plan 2.0, entitled "A Foundation for the Future: Massachusetts' Plan for Excellence in STEM Education: Expanding the Pipeline for All" (.PDF: 3MB), with its refined goals and improved data metrics, sets direction for the years ahead and highlights concrete strategies for use locally to catalyze action around the goals of the Plan in order to prepare the Commonwealth's residents to be STEM literate. This report is the second in a planned series of periodic reports (every three years) to track progress against the goals and to set new standards.
>> Download STEM Plan 2.0 (.PDF: 3MB)
>> Read the press release

>> More info on DHE's STEM initiatives
---
Student Speakers Urge Worcester Teens to "Go Public!" at Community Colleges, State Universities and UMass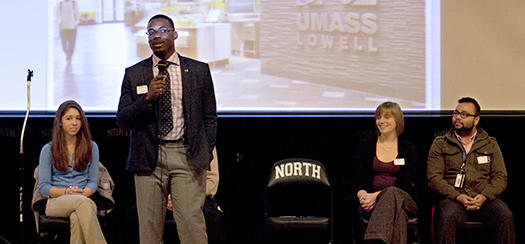 Students representing several of Massachusetts' public colleges and universities take the stage at the Worcester "Go Public!" event. Photo courtesy of Worcester State University.
November 12—Students from Massachusetts community colleges, state universities and UMass campuses came to Worcester's North High School to promote science, technology, engineering and math—the STEM fields—to 400 students from four of the city's high schools.
The event featured six student speakers from UMass Medical School, UMass Lowell, Quinsigamond Community College, Mount Wachusett Community College, Fitchburg State University and Worcester State University. Following the auditorium program, students met with campus admissions representatives to learn more about careers in fields such as medicine, robotics, chemistry and engineering. They also tried their hands at STEM-related activities, such as extracting the DNA from strawberries.
---
DHE Issues Request for Proposals for STEM Starter Academy
October 24—Today the DHE released a Request for Proposals to the 15 community colleges for the STEM Starter Academy, which commits $4,250,000 to Massachusetts Community Colleges to address the needs of students who are interested in pursuing STEM pathway programs of study, yet who lack the academic preparation needed to succeed. Proposals may be submitted for student support services and activities, student stipends, or structured STEM programs of study. Proposed projects will build on current campus initiatives, or initiatives from other Massachusetts Community Colleges that can be quickly replicated. Projects should be designed so as to be easily scalable to other campuses.
>> STEM Starter Academy Request for Proposals (.DOC)
>> STEM Starter Academy Frequently Asked Questions (.DOC)
>> More info
---
DHE Releases 2013 Vision Project Annual Report
Second Annual Report Highlights Signs of Campus Progress on Graduation Rate Goals, New Efforts to Reform Costly Remedial Education Programs
October 21—In keeping with the Patrick Administration's commitment to invest in public higher education, Massachusetts community colleges, state universities and UMass campuses are reporting initial signs of progress in their efforts to graduate more students and better prepare them for jobs in the Commonwealth's knowledge-based industries, according to a major new report released today by the Massachusetts Department of Higher Education.
Within Our Sights: Inside Campus Efforts to Achieve National Leadership in Higher Education is the second in a series of annual reports tracking progress through the Vision Project, a Board of Higher Education-approved strategic plan to achieve national leadership among state systems of public higher education. Across Massachusetts, public campuses are working to expand college access, raise graduation rates, improve the quality of student learning, align degree and certificate programs with the needs of local employers, prepare future citizens, close achievement gaps and pursue research that drives economic development.
>> Download the "Within Our Sights" report
>> Download the press release
>> More info
---
Massachusetts Public Colleges and Universities, Regional Campus Consortia Win $7.5 Million to Close Achievement Gaps, Raise Graduation Rates
September 23—Massachusetts education officials joined leaders of the state's public colleges and universities today to announce the 3rd annual Vision Project Performance Incentive Fund grants designed to spur innovations and improve educational outcomes in public higher education.
The grants totaling $7.5 million were announced at Roxbury Community College (RCC), recipient along with the University of Massachusetts Boston of a consortia grant to help student who transfer to UMass from RCC remain on track to complete their programs of study.
---
Community College Dorms in MA Now a Possibility
June 18—The Massachusetts Board of Higher Education (BHE) today approved a policy change (.PDF) to allow consideration of campus proposals to build residence halls at any of the state's 15 community colleges. The measure was approved on a unanimous vote at the Board's last scheduled meeting of the year. BHE policy in effect since 1980 precluded consideration of residence halls at community colleges. The vote to change the policy establishes Massachusetts as the 40th state to permit the construction of student housing on community college campuses.

"I want to stress that this is not a decision to initiate a program of student housing construction at community colleges," said Richard M. Freeland, Commissioner of Higher Education. "Rather, this is a vote to be prepared to consider proposals in cases where they may enhance the educational experience of our students."
---
Ten Community Colleges Receive Rapid Response Grants to Target "Skills Gap"
May 28—Ten Massachusetts community colleges have been awarded the state's first-ever Rapid Response grants to respond to education and workforce training needs within 90 days of a company's request, the Patrick-Murray Administration announced today. The campus recipients of the grants—Berkshire, Bunker Hill, Cape Cod, Greenfield, MassBay, Middlesex, Mount Wachusett, North Shore, Northern Essex and Roxbury Community Colleges—were announced today during a tour of Web Industries in Holliston, where MassBay Community College has just launched English as a Second Language (ESL) and computer literacy training for the company's multi-lingual employees.
---
Governor Patrick, Education Leaders To Salute Community College, State University and UMass Graduates for Academic, Civic Achievements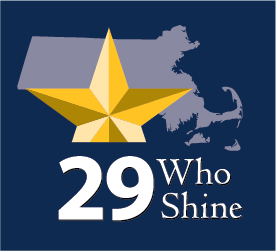 May 2—The Massachusetts Department of Higher Education kicked off the 2013 college commencement season by honoring the winners of the 29 Who Shine Awards, recognizing 29 public college and university students for their academic achievements and civic contributions to the Commonwealth. The students, one from each of the state's 29 community college, state university and UMass campuses, were recognized by Governor Patrick in a State House ceremony on Thursday, May 2, 2013.
---
Governor Patrick Announces Scholarships to 800 Massachusetts Students Pursuing High-Demand Careers
March 26—Governor Deval Patrick today joined Education Secretary Matthew Malone, Higher Education Commissioner Richard Freeland, UMass Boston Chancellor J. Keith Motley and 100 students to announce the Commonwealth's new High-Demand Scholarships, awarded to students pursuing careers for which the state has an urgent need for skilled talent. The Commonwealth's knowledge-based economy relies on a high-knowledge, well-skilled workforce for continued growth, and these scholarships will help ensure that Massachusetts has the talent needed to remain competitive in the 21st century.
---